IMPORTANT: ALS is not compatible with macOS® 10.15 Catalina and up.
---
This version of ALS, part of the award-winning Page Director® Series supports macOS® 10.12 (Sierra), 10.13 (High Sierra) and 10.14 (Mojave).
Compatible with Adobe's CC 2018 through CC 2021 versions of InDesign when paired with AdImport, Fido, and Split & Folio Plugins for CC 2018 through CC 2021.
---
Used at more publications worldwide than any other automated ad layout solution, ALS lets you manage issue planning and ad layout for any publication.
In just a matter of seconds, you can create a complete issue that can be opened in QuarkXPress or Adobe InDesign. With its accuracy, flexibility and robust feature set, ALS saves time, reduces errors and cuts costs.
You're in charge
ALS is powerful yet easy to use. You have complete control and can automate as much or as little of the issue-building and ad placement as you need. ALS builds runsheets and dummies and places ads and creates ad stacks according to your rules. You can program where ads go based on editorial-to-advertising ratios and color configurations while still accommodating special considerations such as coupons, section or page orders and customer requests. It even produces reports. In short, it does everything you need and much more!
Any type of ad
ALS supports unlimited ad types and imports them from your order-entry system as many ways as you need, including bringing over late inserts, updates and kills. Information such as ad name, number, size, color, coupon status, market, advertiser, requested section or page and pickup instructions are poured directly into a runsheet for easy review and manipulation.
Put ads in their place
Once the issue is set and the ads are imported, you can flow them automatically, letting ALS choose the placements based on your rules. You can also drag ads out of the runsheet individually, or use the Layout palette to direct them in specific ways, such as a specific group of ads to be distributed evenly throughout a section.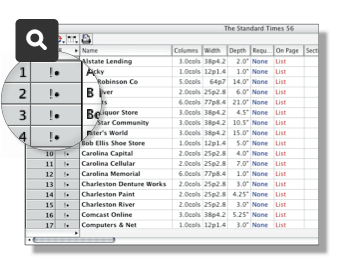 Size things up
It can be tough to determine how many pages are required to satisfy advertising and editorial goals, particularly when some of the ads aren't in yet. ALS streamlines that task even before ad layout begins. The Pagination Manager can calculate optimal issue size based on criteria you set, such as existing and projected ad linage, minimum page count, budgeted editorial-only pages and target ad ratios. The powerful Color Configuration Manager lets you define and store unlimited press configurations, complete with setup and runtime costs, so you can quickly determine the impact of any color request.
With ALS, you make intelligent pagination decisions that cover all the "what-ifs."
---
Features
Keeps track of color placements, page and section requests, pickups and a host of other requirements.
---
Supports a wide array of customizable page and issue attributes.
---
Supports multiple column settings in a single issue.
---
Controls double-truck placement with user-defined preferences. Accurately exports bleed ads to pagination programs.
---
With optional modules, manages multiple editions, handles forms and sections and generates reports.
---
Flows ads automatically, by drag-and-drop, or a combination of both.
---
Balances editorial requirements with advertising requests.
---
Manages ad conflicts with both built-in and user-defined conflict rules.
---
Displays changes to ads and pages in real time.
---
Works with virtually any electronic order-entry system.
---
Creates file-path links so ad images are in place during pagination.
---
Plenty of settings for printing dummies.
---
Completed issues and pages can be opened in InDesign and QuarkXPress, with ad links, folios and all the other layout information inherited.
---
Add-on modules for ALS handle complex functions such as zoning and forms.
ALS Editions Module
The Editions Module tracks ads through multiple editions and zones in a single ALS issue, keeping those placements straight while flagging conflicts and providing immediate access to the ads for a particular issue. The Editions Module can make your regional ad placements blend easily with your common ads.
ALS HTML Report Generator Module
This module makes it easy to generate a Web-based report in ALS. Users can create a customized report or select a pre-defined matrix, then export it as ASCII text, XML or HTML for viewing in a browser. The HTML Report Generator can count ads and pages, generate subtotals or totals for section measurements, and much more. Report templates can even be customized to include a company logo or graphics.
ALS Forms Module
Ideal for use by newspapers and magazines with complicated section configurations, the Forms Module automates and manages forms or incremental issue breaks. It allows for quick placement of inserts, new forms or forms templates, and also offers customized folios, deadline alerting and calculation of press setup and running costs.
ALS Sections & Bookings Module
With the Sections & Bookings Module, you can automatically apply editorial requirements as you build the ALS issue. Standard configurations for daily, weekly or monthly editorial space are matched to advertising information, including requested section placement. Imported editorial linage statistics are automatically listed in the Booking Module and used in ad-to-editorial calculations.
ALS StatusWatch and ImageView Module
StatusWatch interacts with a database or management application, such as Baseview's AdManagerPro, QPS or a front-end order entry system to track advertising and editorial production throughout the publication process. The optional ImageView displays any ad that has a digital file name and path information.
---
System Requirements
Page Director ALS 5.9.4
Macintosh computer with Intel processor.
Macintosh OS X 10.12 (Sierra), 10.13 (High Sierra), or 10.14 (Mojave).
4 GB RAM
If you are using an older operating system, we have a solution that suits your needs. Contact us at via email LINK for more information.
ALS layouts can be opened as QuarkXPress or InDesign documents. (You must install ALS XT or Ad Import Plug-in.)
Click LINK to see full compatibility chart.